Arbortech Looks To Have Solved Complex Sanding
Arbortech recently introduced their Contour Random Sander. Since hearing about it on
WoodTalk
I've been intrigued. It's a small and flexible sanding pad which fits at the end of an extension arm and allows sanding of intricate concave and convex contours.
Dust in your eye?
The amazing part is that somehow Arbortech has engineered an extension shaft that - though attached to a standard 4.5" angle grinder - produces a random pattern at the sanding pad. You can see it in action in Arbortech's video and it looks amazing.
The only downside I can see to using the Arbortech Contour Random Sander is that the sanding pads are adhesive backed, not Velco. This may be a cost decision or it may be that the adhesive backing works better with their flexible backing pads. It comes with 80, 120, 180, 240, 320, 400 & 600 grit sanding discs, so hopefully changing them out is easy.
Regardless of how the pads attach, the Contour Random Sander looks like it will be invaluble for sanding curved work. I know I'll pick one up as soon as the project calls for it.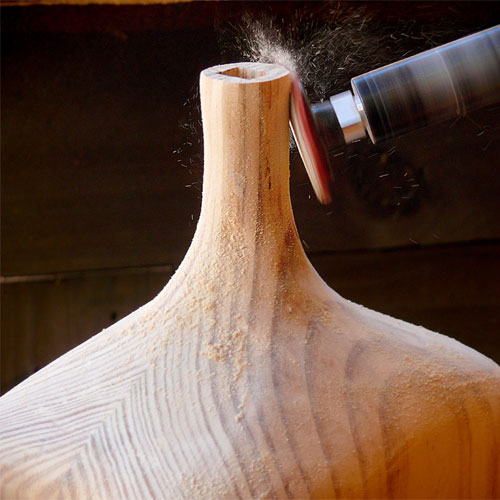 Looks like the Contour Random Sander will handle just about any shape.
This looks to be amazing. the only downside I see is that the paper is adhesive, not velcro.
http://www.arbortechusa.com/view/woodworking/contour-random-sander/
Don't forget about the +Modern Woodworkers Association Podcast. We talk woodworking with Guests from around the world of woodworking every other week. Subscribe to the RSS feed or iTunes today.