A Class Act
Buying used books on amazon has been a great way to expand your library. Since last summer I've been using it to expand my design library. For as little as $5.00 per book (with shipping) I'm able to pick up used copies of books ranging from Fine Woodworking to Sam Maloof to Jeff Miller on Amazon.
You need this book. It's fantastic.
It was an low used price which first led me to buy Jeff Miller's
Chairmaking & Design
book. When I bought it, I can't say I had too much interest in chair making, but it was reviewed well and was quite affordable.
Once it arrived, I knew it was a masterwork when I first flipped through it at my office. Now, having read it I know it's a brilliant reference and instructional guide for beginning chair makers. It has been my goal to make a chair this year, and Jeff Miller's book is the reason.
My finished version of the Jeff Miller Benchtop Bench.
When I was researching designs for benchtop benches before Father's Day, I ran across Jeff Miller's Benchtop Bench and ended up making a version for my Dad as a Father's Day gift. After Chairmaking & Design the Benchtop Bench cement Jeff Miller as a master of instructional woodworking. His work has made him a master of woodworking itself.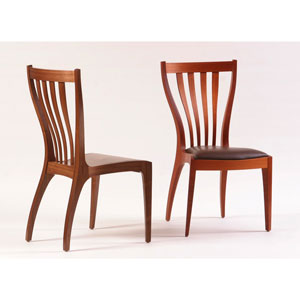 These are some of Miller's wonderful Chairs to be discussed in the class.
The added bonus for me is that it means I'll be making my first trip to Atlanta where I'll not only get to experience Highland Woodworking first hand, I'll also get to hang out with my good friends of the Atlanta Modern Woodworkers Association (some of which have been kind enough to put me up for the weekend).
There are only 25 spots available for the class, and I'm not sure how many are left or how long they'll last, but if you're anything like me, this class will scratch many woodworking itches and should provide a wonderful weekend with a knowledgeable instructor and good friends. I can't think of a better way to enjoy my first formal woodworking class.
Don't forget about the
+Modern Woodworkers Association
Podcast
. We talk woodworking with Guests from around the world of woodworking every other week. Subscribe to the
RSS feed
or
iTunes
today.